Ye He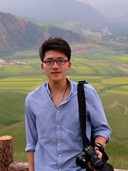 PhD student
Contact Information
Email Address: yh302@duke.edu
Education
Aug. 2020-Present
Duke University, USA
Ph.D. student in Mechanical Engineering & Materials Science
Sep. 2016- Jun. 2019
Chongqing University, China
M.S. in Bioengineering (biomaterials and biomacromolecules)
Sep. 2012- Jun. 2016
Southwest University, China
B.S. in Biology
TEACHING/WORK EXPERIENCE
•Teaching Assistant, Duke Kunshan University (Aug. 2020- May. 2021)
•Research Assistant, Chongqing University (Sep. 2019- July. 2020)
Research Interests
•Acoustofluidics
•Biomaterials and tissue engineering
Publications
1.Xu Zhang*, Ye He*, Xuan Li, Chuanchuan Lin, Zhang Yuan, Liangliang Dai, Feng Ma, Yi Lv, Tony Jun Huang, Mudan Ren, Kaiyong Cai, and Shuixiang He, Biocompatible, adhesive and stable GelMAc/PV AMA/MPDA @Cur hydrogels regulate immune response to improve endoscopic submucosal dissection-induced gastric ulcer healing in vivo, Applied Materials Today, Vol. 28, pp. 101539, 2022. (Xu Zhang and Ye He have equal contributions)
2.Ye He, Ke Li, Xin Yang, Jin Leng, Kun Xu, Zhang Yuan, Chuanchuan Lin, Bailong Tao, Xuan Li, Jingwei Hu, Liangliang Dai, Ryan Becker, Tony Jun Huang, and Kaiyong Cai, Calcium Peroxide Nanoparticles-embedded Coatings on Anti-inflammatory TiO2 Nanotubes for Bacteria Elimination and Inflammatory Environment Amelioration, Small, Vol. 17, pp. 2102907, 2021. 
3.Ye He, Jin Leng, Ke Li, Kun Xu, Chuanchuan Lin, Zhang Yuan, Rui Zhang, Danyang Wang, Bailong Tao, Tony Jun Huang, and Kaiyong Cai, A multifunctional hydrogel coating to direct fibroblast activation and infected wound healing via simultaneously controllable photobiomodulation and photodynamic therapies, Biomaterials, Vol. 278, pp. 121164, 2021. 
4.Jin Leng*, Ye He*, Zhang Yuan, Bailong Tao, Ke Li, Chuanchuan Lin, Kun Xu, Maowen Chen, Liangliang Dai, Xuemin Li, Tony Jun Huang, and Kaiyong Cai, Enzymatically-degradable hydrogel coatings on titanium for bacterial infection inhibition and enhanced soft tissue compatibility via a self-adaptive strategy, Bioactive Materials, Vol. 6, pp. 4670-4685, 2021.  (Jin Leng and Ye He have equal contributions)
5.Ye He, Kun Xu, Ke Li, Zhang Yuan, Yao Ding, Maowen Chen, Chuanchuan Lin, Bailong Tao, Xuemin Li, Guanjun Zhang, Peng Liu, Kaiyong Cai, Improved osteointegration by SEW2871-encapsulated multilayers on micro-structured titanium via macrophages recruitment and immunomodulation. Applied Materials Today 100673 (2020).
6.Ye He, Caiyun Mu, Xinkun Shen, Zhang Yuan, Ju Liu, Weizhen Chen, Chuanchuan Lin, Bailong Tao, Bin Liu, Kaiyong Cai, Peptide LL-37 coated on microporous titanium to facilitate bone regeneration via mesenchymal stem cells recruitment Acta Biomaterialia 80 412-424 (2018).
7.Ye He, Xin Yang, Zhang Yuan, Xinkun Shen, Kun Xu, Chuanchuan Lin, Bailong Tao, Ke Li, Maowen Chen, Yan Hu, Zhong Luo, Zengzilu Xia, Kaiyong Cai, Regulation of MSC and macrophage functions in bone healing by peptide LL-37-loaded silk fibroin nanoparticles on a titanium surface. Biomaterials Science 7 5492-5505 (2019).
8.Ye He, Yangyang Zhang, Xinkun Shen, Bailong Tao, Ju Liu, Zhang Yuan, Kaiyong Cai, The fabrication and in vitro properties of antibacterial polydopamine-LL-37-POPC coatings on micro-arc oxidized titanium. Colloids and Surface B: Biointerfaces 170 54-63 (2018).
Awards and Honors
1.National Scholarship of China for Graduate Students (2018)

2.Excellent graduate thesis of Chongqing, China (2020)